Climate positive businesses are removing more greenhouse gasses than they are creating. Aside from the environmental benefits of doing this, why else would climate positivity matter? That's what we'll go through in this post, along with how to achieve climate positivity. We'll also include some examples of climate positive strategies that you can draw inspiration from.
What Does "Climate Positive" Mean?
"Climate positive" means taking actions that remove more greenhouse gasses from the atmosphere than one's activities emit, resulting in a net positive impact on the environment.
The Paris Agreement seeks net zero carbon emissions, and many companies and countries are making changes to achieve these goals. Realistically, if we are to hit net zero emissions targets, ambitious entities will need to pull more weight in order to make up for the countries and companies that do not share net zero emissions goals.
A business may need to offset more emissions than it produces to achieve a "climate positive" status, demonstrating environmental leadership and exceeding sustainability commitments for a healthier planet.
In brief, here are the important terms to remember surrounding carbon and the climate:
Climate positive: When activities go beyond net zero to actually remove carbon from the atmosphere, resulting in negative carbon emissions. It's not the same as "carbon positive", which would imply that you have positive carbon emissions.
Carbon neutral: When activities release zero carbon into the atmosphere. This can be achieved through both carbon offsetting projects and actually reducing carbon emissions. The amount that can be offset in order to be considered "carbon neutral" changes depending on the framework, but the Net-Zero Standard states that at least 90% of carbon emissions must be eliminated from operations, while the remaining 10% or less can be offset.
Net zero: It's nearly the same as carbon neutral, and many people use it interchangeably, but most of the time, net zero entities carry higher standards of carbon neutrality. Net zero companies focus more on reducing emissions within their value chains rather than offsetting. They will only offset carbon emissions that cannot possibly be removed from their operations. (Learn more about the difference between net zero and carbon neutral here.)
Carbon negative: This means the same thing as "climate positive."
What is the target for climate positive?
Climate targets are achieved by ensuring that the carbon footprint of a company is less than its carbon output. Essentially, the company goes beyond being carbon neutral to become carbon negative. It can be calculated by calculating the entire carbon footprint, enacting measures to become carbon neutral, and then executing additional actions to be carbon negative.
Companies that are currently reducing emissions implement strategies such as the following.
Decarbonizing their supply chains.
Promoting circular practices among their supply chains and customer base.
Investing in carbon offset projects and forestry efforts.
Moving to 100% renewable energy.
Becoming leaders to help other companies in their sector become carbon neutral.
The Importance Of Being Climate Positive For Ecommerce Businesses
Being climate positive is essential for both the environment and business. To keep the global temperature below 2ºC above pre-industrial levels—the point at which climate experts agree is the turning point toward catastrophe—global pledges need to be at least six times higher than they are currently.
Businesses can do their part by
offering carbon neutral products,
using their platform to encourage behavior change,
investing in plastic-free sustainable packaging, and more.
According to McKinsey, the United States emits 7.2 billion tons of carbon each year, spanning every sector. This means that every business is culpable; companies big and small should take steps to become carbon neutral to enact the change needed to stop climate change.
Besides environmental factors, consumers seek sustainability when making purchasing decisions. In fact, a study by McKinsey and NielsenIQ found that "Products making ESG-related claims averaged 28 percent cumulative growth over the past five-year period, versus 20 percent for products that made no such claims."
See this case study for a real life example: Simbly's Focus on Sustainability Helps Average Order Value Skyrocket 38%
At the bare minimum, companies should aim for carbon neutrality in order to compete in the modern market. Businesses that pursue positive climate strategies, such as becoming carbon negative, place themselves ahead of the competition, getting on top of consumer desires.
Options For Implementing Climate Positive Strategies
When becoming climate positive, there are a few strategies that your ecommerce business can employ. Whether you're a small business making minor changes or a larger company with the resources to invest in a climate consultant, here are some things that you can do now to reduce carbon emissions and get your company on the path toward a sustainable future.
Manually select the most sustainable business options
Smaller companies that already carry a small carbon footprint can make minor changes in their day-to-day operations that come with a great impact. By switching to energy-efficient lightbulbs, choosing sustainable suppliers, and investing in plastic-free sustainable packaging, you can start to reduce your carbon footprint and head towards your goals.
Some sustainable business practices may include the following:
Switching to sustainable packaging.
Using a carbon neutral web host.
Decarbonizing supply chains.
Adding an extra fee to long-distance deliveries that goes to carbon offsetting efforts.
Encouraging behavior change by incentivizing customers to recycle packaging.
Eliminating single-use products from the workplace and providing reusable water bottles to employees.
Reducing energy by investing in energy-efficient lightbulbs, creating efficient office spaces, and/or switching to renewable energy sources.
Encouraging employees to become more sustainable in their daily lives, and provide training and workshops to help them understand their impact.
Banning non-recyclable plastics from the workplace.
Creating incentives for employees to commute sustainably (e.g. provide free public transportation passes or gift cards to those who ride their bikes or carpool to work).
Helping your customers reduce their carbon footprint (such as offering a carbon neutral shipping option at checkout).
Investing in carbon removal technologies, such as Direct Air Capture (DAC) or Bioenergy with Carbon Capture and Storage (BICCS), both of which remove existing carbon from the atmosphere.
Investing in reforestation projects, regenerative agriculture, and ocean alkalinity enhancement, all of which remove carbon from the atmosphere naturally.
Offsetting past carbon emissions. Both carbon neutrality and net zero only cover current carbon emissions. By investing in projects to take responsibility for your past emissions, you can take that extra step to try and reverse the effects of climate change.
Improving your ESG and CSR strategies, and including your carbon footprint in your sustainability efforts. While carbon reduction might not equate to climate positivity, it is an important piece of any sustainability plan.
Investing in carbon offset projects.
Sometimes, reducing your company's carbon footprint just takes a little bit of creativity. Gather your decision makers and brainstorm simple changes that are attainable for your business.
Use climate positive consulting
Larger ecommerce companies may benefit from hiring a climate consultant. A consultant will be able to thoroughly analyze your company's environmental footprint using a trusted framework and provide a plan with measurable goals for your company to achieve.
Here are the greatest benefits of hiring a consultant.
Avoid greenwashing with expert backing.
Set measurable targets backed by science.
Establish your current carbon footprint using trusted frameworks.
Rest assured that your sustainability goals are thorough and impactful.
Automate sustainable shopping experiences with EcoCart
EcoCart, a carbon offsetting app for ecommerce businesses, helps ecommerce companies of any size with an easy-to-use automated sustainable shopping experience.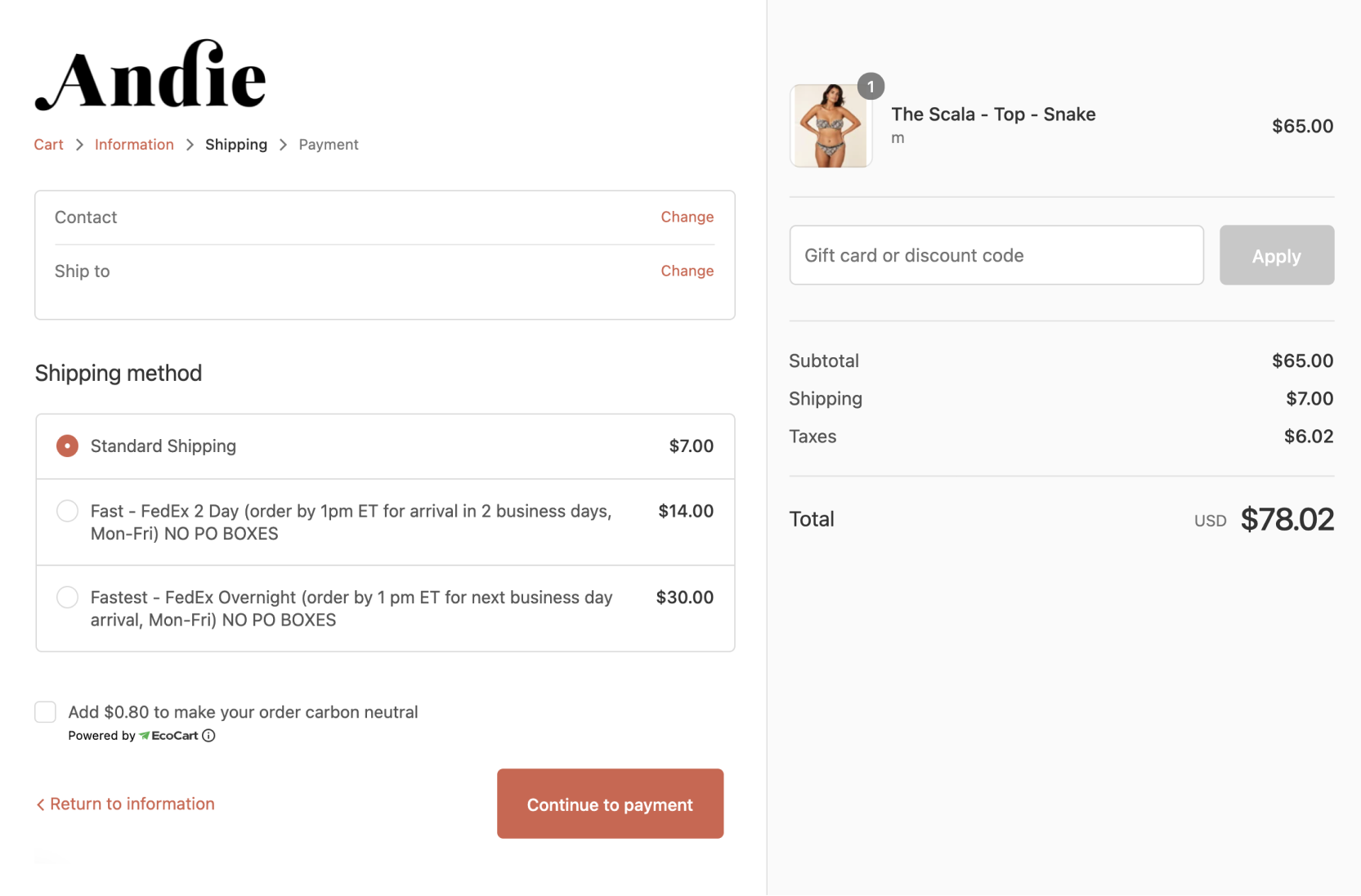 Case Study: Andie
Here's how it works.
We calculate the approximate carbon footprint of each order.
The option is provided to offset that carbon footprint at checkout.
Our analytics dashboard allows you to track and share your carbon footprint with shoppers.
We help you attract and gain customers through your sustainability story, educational sustainability content, and more!
We know that ecommerce companies often feel overwhelmed by the prospect of reducing their carbon footprint. But, it doesn't have to be difficult. At EcoCart, we support your sustainability strategies by automatically tracking your carbon footprint and analyzing your progress.
With this information, you can ensure that your strategies are working and adjust them if needed. Through our services, being climate positive and helping stop global warming has never been easier.
Interested? Reach out to our team for a demo today.
Climate Positive Strategies By Ecommerce Business Vertical
So, we've established the importance of being climate positive and how EcoCart can help ecommerce companies reach their targets. But, what exactly does a climate positive strategy look like? Let's take a look at some strategies for different verticals.
Consumer packaged goods
Minimize waste by investing in sustainable packaging.
Design sustainable products with low impact.
Educate customers, and encourage them to take responsibility for their carbon footprint, too.
See how other brands in this vertical do it: Case Studies: Consumer Packaged Goods
Apparel
Source materials locally, minimizing delivery distances.
Use organic textiles with minimal impact.
Recycle and upcycle products and materials when you can.
See how other brands in this vertical do it: Case Studies: Apparel
Cosmetics
Use organic ingredients in your products.
Invest in recyclable packaging.
Develop concentrated products that require less packaging.
Support sustainable farming practices by partnering with transparent suppliers.
See how other brands in this vertical do it: Case Studies: Cosmetics
Home goods
Use wood or bamboo instead of plastic or other petroleum-based materials.
Develop energy-efficient products and encourage customers to unplug them when not in use.
Create cleaning products with eco-friendly ingredients rather than harmful chemicals.
See how other brands in this vertical do it: Case Studies: Home Goods
Want to know where your business stands? Take our sustainability scorecard quiz to find out:
The truth is that, no matter what you do, your business can always do more. Everything we do carries an impact, and although we can (and should) strive to be as impactless as we can, there will always be a cost to business. Therefore, all business verticals can benefit from carbon offsetting projects to help them achieve and exceed their climate positive goals.
EcoCart provides carbon offsetting for businesses through permanent and verified projects across the world. Our carbon solutions protect forests, grasslands, and wetlands, support local communities, and preserve wildlife. Each project is measured and certified following established and trusted frameworks, ensuring that our carbon offsets are meaningful.
Here at EcoCart, we do not believe in a business-as-usual approach which is why we also work with our ecommerce partners to improve their total carbon footprint beyond our offsetting projects, helping them toward a positive impact.
Read more: Consumerism and Climate Change
The Benefits And Challenges Of Adopting A Climate Positive Strategy
As with everything, climate positivity has its upsides and downsides.
The benefits of a climate positive strategy are nearly the same as any other sustainability plan.
It improves your reputation among customers, increasing customer loyalty.
Many sustainability initiatives save money in the long run. For example, switching to energy efficient light bulbs can save a good chunk of your energy bill.  
Instill trust in your investors. By showcasing a commitment to sustainability, you prove that your company is forward-thinking and less of an investment risk. 
Become a leader in your industry. While net zero standards are well-known, climate positivity is a comparably new approach. By setting climate positive goals and initiatives, you can pave the way toward a new standard within your sector. 
Its challenges and criticisms are nothing new. Critics claim that climate positivity can easily become a form of greenwashing. Unless offsetting projects and other initiatives are carefully verified and measured, it's difficult to say how much carbon is actually being removed from the atmosphere. Companies may be able to claim climate positivity without making much of a positive impact at all.
5 Climate Positive Examples In Ecommerce
1. JuneShine
One of our partners, JuneShine, is achieving negative carbon footprints by offering eco-friendly alcohol in the form of hard kombucha. Although they were already a certified carbon neutral ecommerce company, they found EcoCart and saw an opportunity to become climate positive. Today, 43% of orders opt-in to offset projects, and since partnering with us, they have offset over 2 million pounds of carbon.
2. IKEA
IKEA's plan to become climate positive consists of internal changes as well as engaging their supply chains and consumer base to take responsibility for their carbon footprint, too. It's moving toward 100% renewable energy, has set goals to source materials and food with low carbon impact, and encourages sustainable product use at home by educating customers about energy use.
3. Apple
By 2030, Apple aims to be carbon neutral both internally and along its supply chains by 2030. Its strategy entails low-carbon product design, 100% renewable energy for production and 70% renewable energy along its supply chains, reducing its carbon footprint and greenhouse gasses associated with processes and materials, and investing in carbon removal technologies.
4. Microsoft
Microsoft plans to become climate positive by 2030. It seeks to do so through becoming carbon neutral, digital innovation, using low-carbon materials, developing tools to help businesses track and analyze their carbon footprint, and embracing remote work.
5. Quickbooks
To become climate positive, Quickbooks has promised to help 30,000 small businesses achieve their climate goals. This is on top of their own climate goals, which seek to reduce greenhouse gas emissions by more than 50 times the company's own footprint.
Conclusion
Being climate positive isn't just the right thing to do for the planet. It's essential for modern business. The good news is that it doesn't have to be complicated. Your ecommerce business can make small changes now to reduce its carbon footprint and take its first steps on the path toward zero emissions.
On the fence? Learn how carbon offsets work and if you're serious about getting started, then reach out to our team for a demo today.